ADDAC502
Lissajous Curves
Disclaimer
Prices shown exclude VAT, outside EU all orders are VAT free.
Description
The Addac502 module generates Lissajous curves, so you can use complex harmonic motion in your synthesis. These elaborated oscillations can create wonderful sounds that go way beyond typical LFO modulation.
Lissajous curves create beautiful motion, that can go from simple circles, to more complex parabolic representations and even pseudo-3D structures or the so-called Lissajous knots.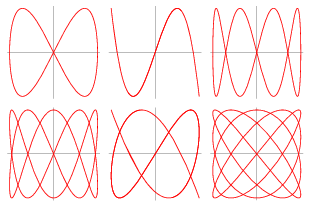 source: WolframAlpha
Features
Amplitude - Maximum and Minimum (for both the x and y curves)
Frequency (for both the x and y curves)
4 independent outputs
Several output modes (controlled through thumb wheel switches)
. Frequency and Amplitude of both curves can be controlled either manually or through CV.
. Several output modes: curve1 x, curve2 x, curve1 y, curve 2 y or averaging between two or more of the previous.
. Any of the modes can be mapped to the desired physical output.
Specs
Mechanical:
. Format: Eurorack
. Width: 10 HP
. Depth: 6 cm
Control Voltage I/O:
. CV inputs: ± 10v
. CV outputs: ± 5v
Electrical:

. Compatible with +-12v and +-15v power supplies
. Max current: 150mA
. Bus Board Cable: 8 × 2 IDC (Doepfer style) connector
Interactive Users Guide
In order to better illustrate the behavior of this module we developed a javascript app for potential users to test and better understand the module's inherent features.
This guide features all the functions of the real hardware module plus a graphical display that resembles an oscilloscope and a very simple sound engine as if the module output was plugged straight into the CV input of a VCO.
The audiovisual experience of using this application makes it a very effective demonstration of the module's operation.
Also available is the offline Java App cross compatible with the three main operating systems.
Lissajous Modes
Lissajous Thumb Wheel Modes
MODE 0: LISS1 X
MODE 1: LISS1 Y
MODE 2: LISS2 X
MODE 3: LISS2 Y
MODE 4: (LISS1 X + LISS2 X) / 2
MODE 5: (LISS1 Y + LISS2 Y) / 2
MODE 6: (LISS1 X + LISS1 Y + LISS2 X + LISS2 Y) / 4
MODE 7: LISS1 X / LISS2 X
MODE 8: LISS1 Y / LISS2 Y
MODE 9: LISS1 Y % LISS2 Y